Sports Climbing introduces bolted-in anchor points that make up the route whereas Trad Climbing anchors can be placed at any point deemed fitting as and when required by the climber.
1. Top Rope
2. Lead Climbing
3. Bouldering
4. Multi-Pitch Climbing
Multi-pitch
A single pitch at a crag is where a lead climber reaches the first anchor point. In sports climbing, most routes are usually around 15 meters to 30 meters at an interval on each pitch. For multi-pitch routes, the seconder will climb and join the leader where he performs top belay at the first pitch, usually at the ledge where there is a comfortable spot to belay. The climbing continues where both reached the secondary pitches and so on till they have both reach the top of the cliff. Multi-pitch climbs are rated by difficulty just like any other climbs, the time taken to reach top varies, it depends on their climbing standard.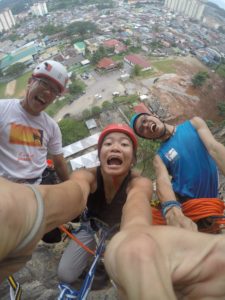 After the multi-pitch climb, most bask in the scenery and then abseil back down the route, following the same way they came up.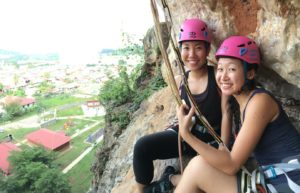 For climbers and his buddy set out to climb their first multi-pitch route together. Is best they thoroughly discussed climbing and belaying signals, turn around situations (rain, lightning, darkness, etc) Study the guidebook and feel confident that you have enough information before starting to attempt.
The basic gear list for a multi-pitch route
Helmet
Harness
Climbing Shoe
Chalk Bag
ATC Belay device for double ropes
1 set of 70m single rope
About 15 to 20 quickdraws
Slings 2 x120cm
8 locking carabiners
Accessory cord for autoblock or French Prusik
Lightweight backpack (20 liters)
Food
Drink
Knife
Headlamp
Small first aid kit
Personal anchoring system
Topo of the route map or guidebook
Rockerfellas can conduct courses and prepare you for a Multi Pitch climb.