Deep Water Soloing: Climbing Without Ropes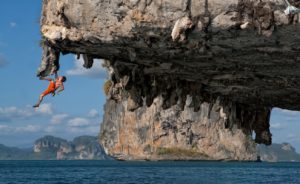 Deep-water soloing (DWS), also known as psicobloc is a form of solo rock climbing that relies solely upon the presence of water at the base of a climb to protect against injury from fallings from the generally high difficulty routes, there are no ropes required. DWS typically practiced on sea cliffs at high tide, it can also be done on climbs above reservoirs, rivers, and even swimming pools.
Often a dinghy is used to pick up the fallen climber as a fall from a taller route which can still knock him/her out, causing them to drown.
Liquid chalk is normally used in place of a chalk bag as it removes the wastage of loose chalk involved during a fall. Some DWS climbers apply liquid chalk in a line on their forearms so that they may rechalk during the climb. Synthetic shoes are also preferable to leather constructed ones as they will not shrink when wet.
Check out some YouTube videos of Deep Water Solo Climbs on both real rock and artificial walls!