Written by Tisa (@makethatleap)
Lord of the Thais is a 5-pitch climb (6a+ (25m), 7a (28m), 7a+ (28m), 7b (27m), 6b (12m)) on Thaiwand Wall, at Railay West in Krabi, Thailand. After watching Sasha DiGiulian's video on this multipitch a few years ago, I made this route something I wanted to try in my lifetime – I loved the enthusiasm and excitement she showed in the video, and wanted to experience for myself what was dubbed as "One of the best routes in Thailand, maybe the world?" (Quote courtesy of thecrag.com)
What was a casual passing comment to Derek about trying this route became something of a certainty as we started planning for this trip – it was personally a rollercoaster of a journey for me with moments of confidence, and many more moments of doubt and fear after speaking to those who have climbed this multipitch.
But it was this fear that pushed me to read up as much as possible on skills beyond what is taught in a normal SNCS L3 class, and put them into practice. To me, I felt that the only person I should trust is myself first and foremost, with your partner and their skills being a supplement to the climb.
Preparation
Derek and I spent a little over a month preparing for this multipitch. This included:
Solidifying basic multipitch skills and climbing calls, which also involved familiarising ourselves with each other's understanding of core concepts like redundancies and how we communicate instructions to each other;
Training up our strength and endurance by wearing rope bags (with 70m rope) or 10kg weight vests while lead climbing at indoor gyms;
Practising specific skills required for the multipitch such as rappelling on overhang (which involves a sequence of back clips), self-rescue techniques (prussiking to ascend a rope), using a clipstick and communicating over walkie talkies; and
Familiarising ourselves with the route through our guidebooks (King Climbers 9th edition (2016) and Climbing in Thailand and Laos by Elke Schultz 8th Edition (2018)), speaking to multiple people who have climbed this multipitch, reading forums and sites on thecrag.com and mountainproject.com and analysing Youtube videos.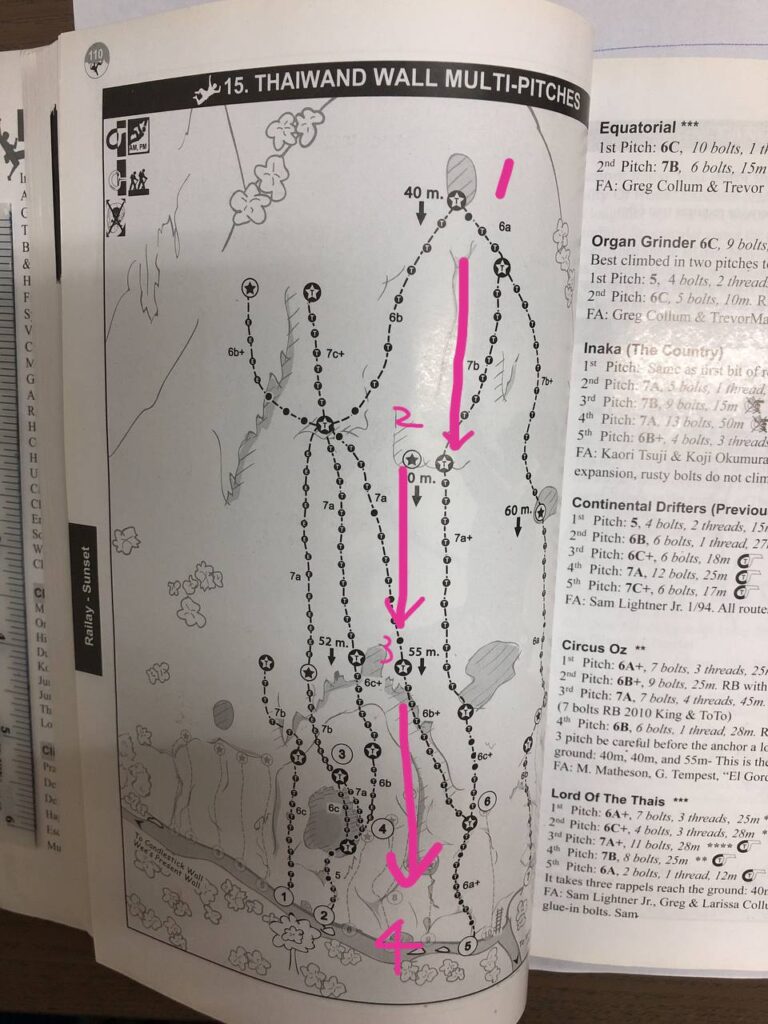 The Approach
We started our hike at 5am from Railay West beach, walking into the forest behind Rayavadee resort and walking past Wee's Present Wall on our left. It was pitch dark in the forest as the sun had not yet risen – we had prepped fully charged headlamps prior to entering the forest.
We had hiked the route twice since we arrived in Krabi two days before – once for the Crystal Flame multipitch at Candlestick Wall, and again when we recce'd the base of Thaiwand wall the day before. Derek had also hiked this forest trail multiple times before the pandemic. Nevertheless, hiking in pitch darkness made the route-finding difficult and we had to retrace our steps a few times after hitting dead ends.
We finally reached the reassuring orange soil at the base of Thaiwand wall close to 6am, just as the sun was peeking out from behind the cliffs. After a quick water break, we re-packed items we didn't need and stored them in the cave at the base of the wall.
As at 26 April 2022, the ladder that used to be there (and appears in Sasha's video) has been removed, leaving two choices on getting to the belay ledge – a slightly slabby route on the left near the start of "Twenty Kilos of Steel" or a juggy slightly inclined route near where the ladder used to be.
We took the former option, with Derek climbing up first with one rope bag, and then hauling the second rope bag and our daypacks afterwards. When we were both on safety at the ledge, I attached the second rope to my haul loop, which will trail me for the rest of the journey up.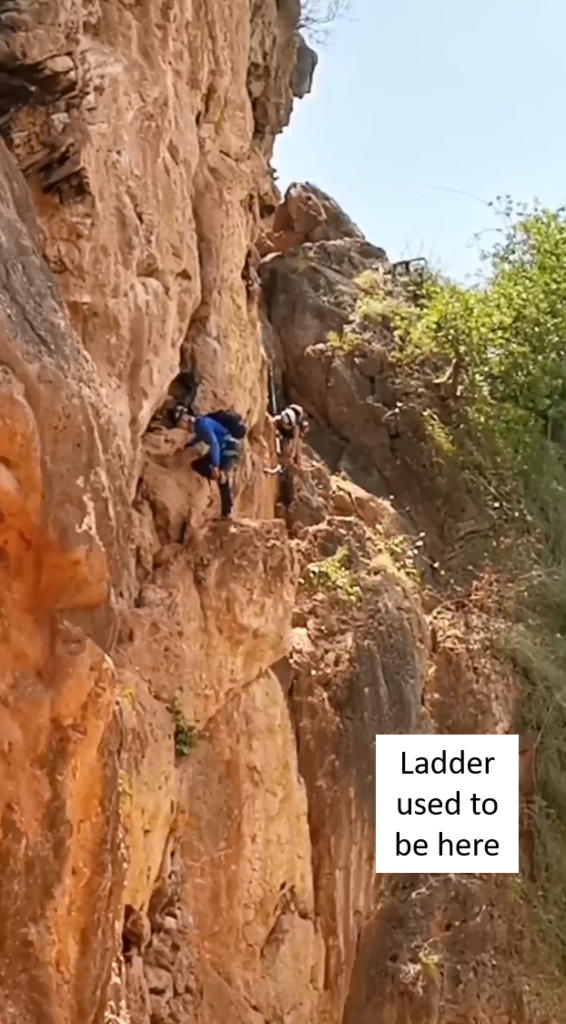 The Pitches
Pitch 1 – 6a+ (25m), 10 QDs
Quick and straightforward pitch, nothing memorable. The anchors are just after a bend around the arete.
Pitch 2 – 7a (28m), 7 QDs
Some burly moves involved towards the top of this pitch to get over the bulge. The anchors are on a comfortable and spacious ledge in a cave.
Pitch 3 – 7a+ (28m), 11 QDs
A stunning route, with really interesting holds made of million-year-old corals. We definitely agreed that this was one of the best routes we've ever climbed and wouldn't hesitate to try it again!
It starts off straightforward, while holding on to these bulbous mushroom looking holds, and then 2 to 3 clips of roof climbing on the same type of holds. Don't forget to look down and admire the amount of air below your feet 😉
The crux is just after the overhang to get over the bulge, and you will reach the anchors at a smaller belay ledge which is shaded from the sun. We took a longer break here with Snickers bars to keep us going.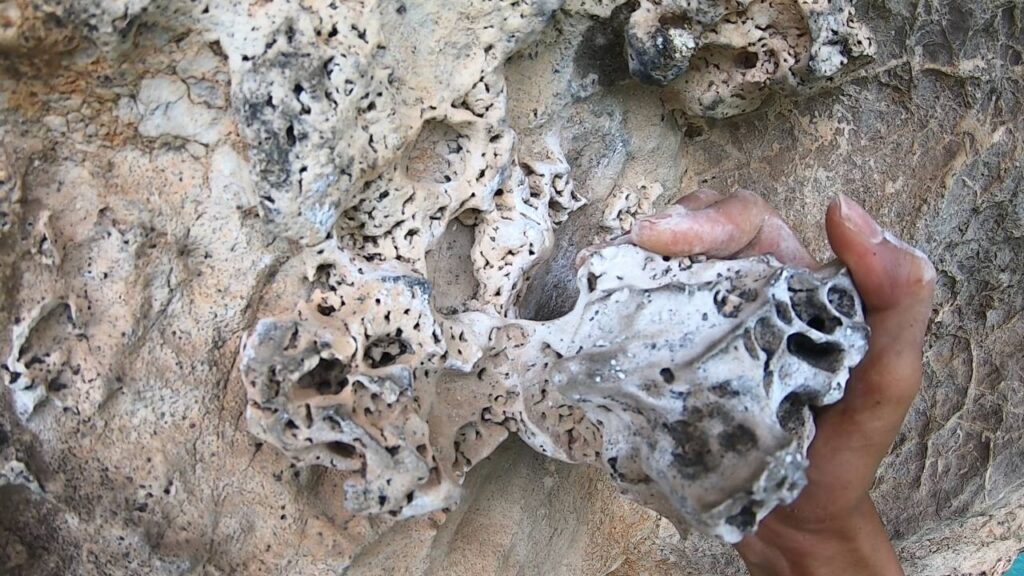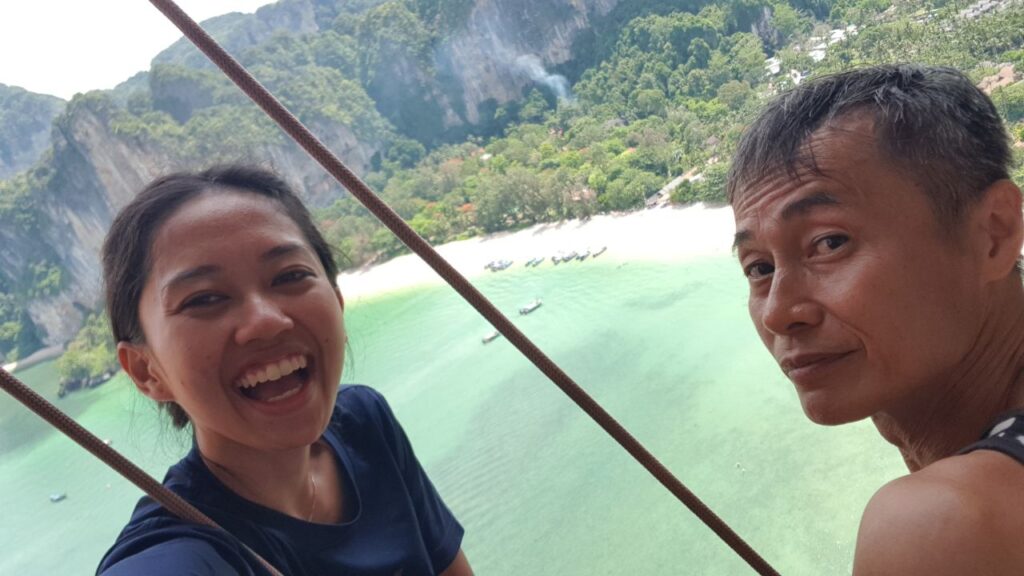 Pitch 4 – 7b (27m), 10 QDs*
* Different from guidebook
This pitch was very hard for both of us – steep wall with hard moves to bad holds. I wanted to give up at one point while I was on second, and I even told Derek on the walkie talkie that I was bailing. The importance of finding a partner who has the same goals as you came very prominently here – he knew that we both wanted to finish this and he gently pushed me on at every clip.
It was a very big struggle for me, and I'm really thankful to have had a multipitch partner who didn't give up so easily. (Also, thank you for standing at an uncomfortable belay stance, in the sun, for the entire time I was struggling up the pitch).
After a few bulges, the anchors are on some sharp black rocks facing the ocean.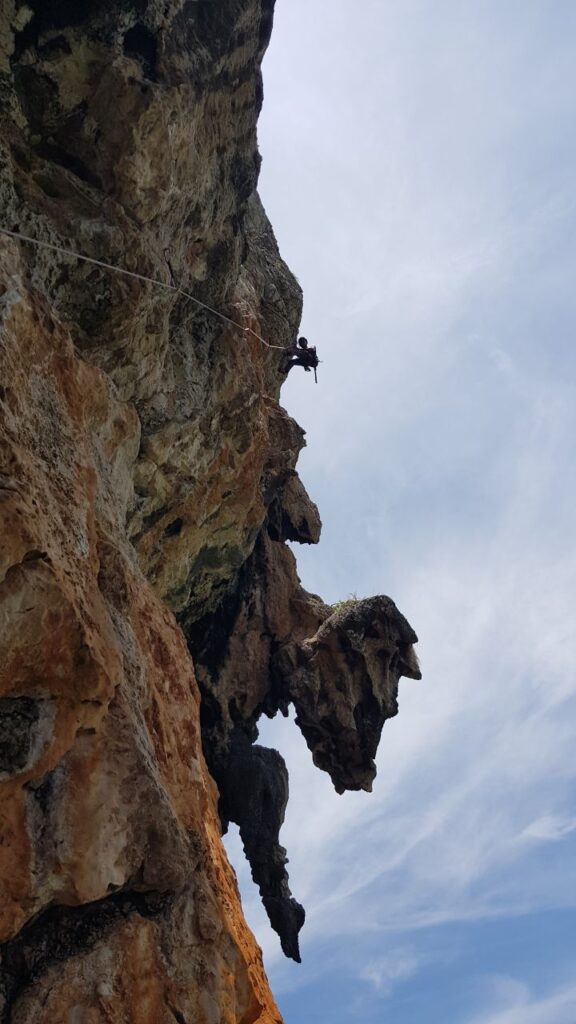 Pitch 5 – 6b (12m), 6 QDs*
* Different from guidebook
Some guidebooks list this pitch as a 6a+, but we felt it was at least a solid 6b. It starts up a short incline with big moves (with sparse protection), and then traverses on very sharp rock (almost like knives) to the left, before you reach the anchors just below a small cave. Be careful of loose rock in the cave!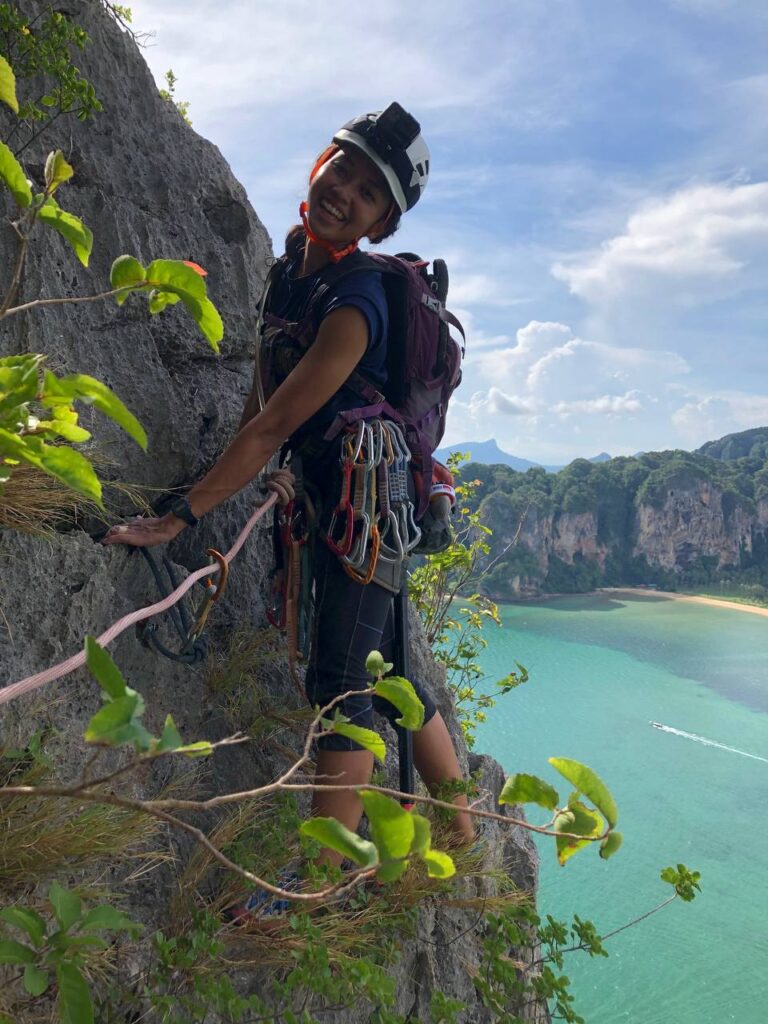 And with that, we did it! We had reached the top of Lord of the Thais! It was surreal, to say the least, having tossed and turned over it for close to a month.
But the journey is only halfway done – the rappels were the next thing to worry about. I was personally warned that this rappel was very tricky, involving a series of back clips and manoeuvring around the walls to get to the correct anchors. The fact that failures in rappels are the most common causes of climbing accidents and fatalities was also at the forefront of my mind.
The Rappel
Based on many sources, we needed 3 rappels on 2*70m rope tied together to get to the ground safely.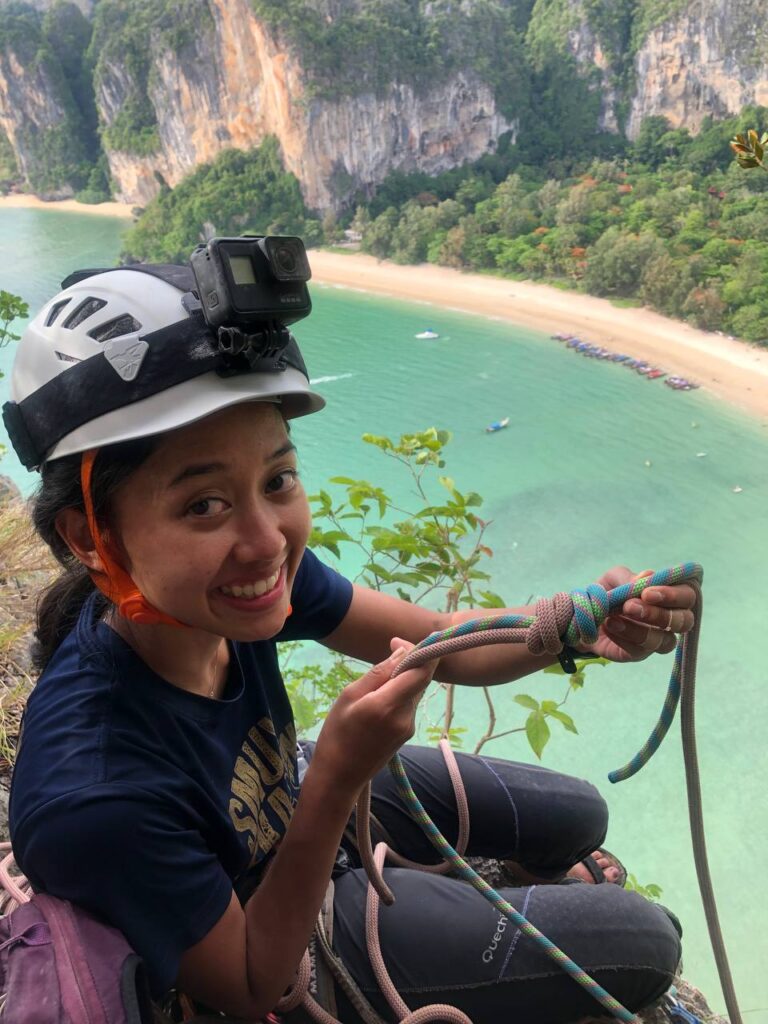 I started the first rappel, which was pure hanging in mid-air, and started to back-clip closer to the Pitch 3 anchors. This was so that I could get close enough to the wall and toehook my way to the left and reach the Pitch 3 anchors. After putting on safety, Derek rappelled down next, releasing the backclips on the way down.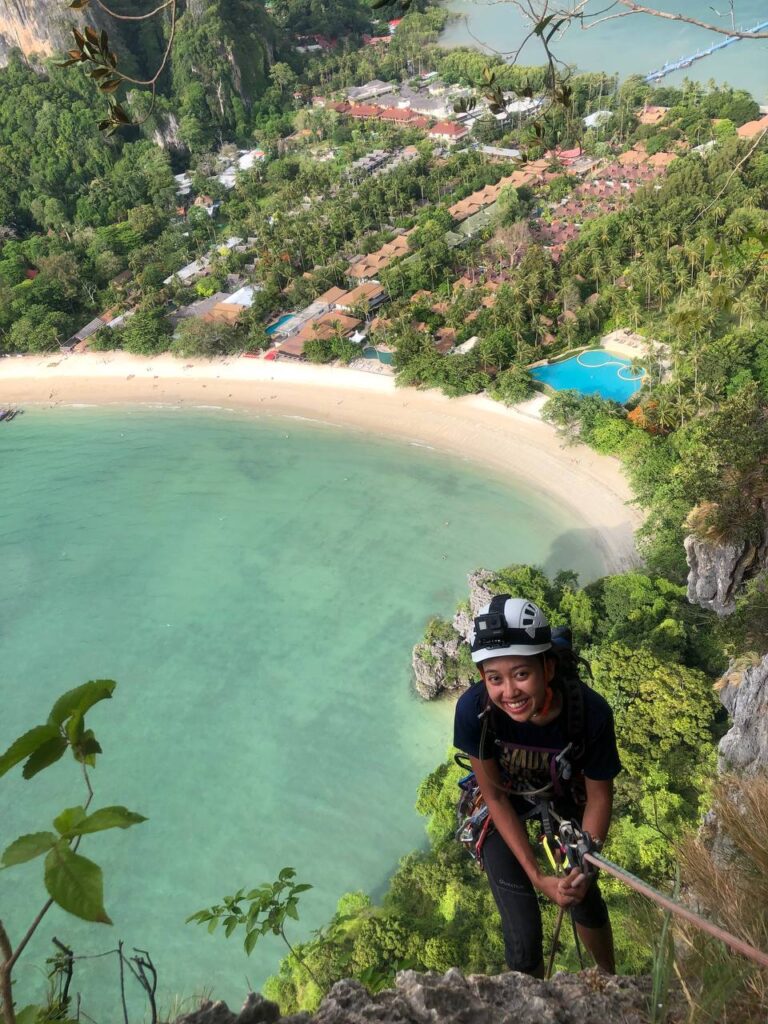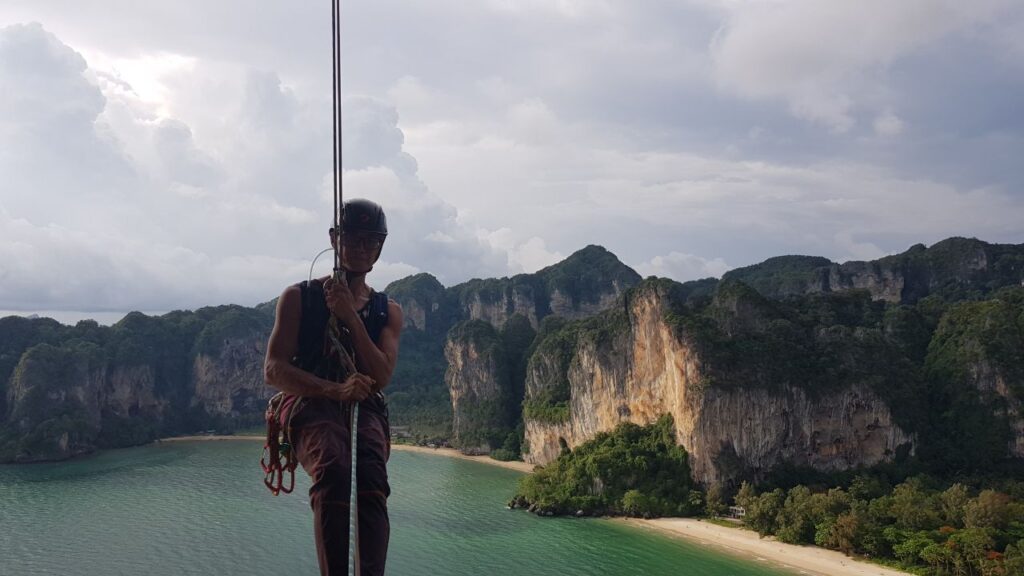 For the second rappel, we lowered the rope towards the left. On hindsight, we recommend lowering the rope towards the right, over the bulge, so that the person rappelling can backclip at the overhang. I led the second rappel, backclipping twice at the overhang, and rappelling past the Pitch 2 anchors to reach a rappel station about 10m below the Pitch 2 anchors. This rappel station was on a small ledge, so don't miss it!
At this point, it started to rain, and the winds picked up. Our ropes were being blown horizontally, and there was a fear that they would entangle themselves in the stalactites across the wall. We had to work quickly and calmly, and again, I stress the importance of being well-versed and familiar with the core concepts in a multipitch. You can't afford to forget a step, especially when the environment is not conducive (e.g. bad weather).
The last rappel had our ropes touching the ground, and we rappelled down as the rain and wind whirled around us. Our travel party was waiting for us with cold drinks and warm food, and it was truly a relief standing on solid ground, after 12 hours hanging off the wall.
Final Thoughts
Would I do it again? Maybe only up to Pitch 3 😂 And definitely with more physical training! We both agree that you should be comfortable leading 7b indoors to be able to enjoy this climb.
I must also emphasise that you should always over prepare – it's not an easy multipitch, both physically and mentally, and you need to be very familiar with your partner and the skills needed. Rappelling more than 100m, majority of which is on an overhang (i.e. hanging in mid-air), is not something to be taken lightly. Do take up a course with an experienced instructor, get some outdoor multipitch experience and get familiar with your partner, before embarking on such expeditions.
It was a great learning experience, where we were forced to think on our feet when we faced difficulties, in addition to the physical and mental fatigue of climbing.
Thank you to Ben and Dorcas, who waited patiently for us the whole day at the base of the wall, flew the drone to capture the climb and brought us food and drinks at the end of the climb. Thank you to Chuan, Wan and Kenneth, who gave us crucial information from their experiences on the route. Thank you most of all to Derek, who pushed me when I wanted to give up, who kindly led up the pitches which I was supposed to lead but bailed out of, who listened to my suggestions and worked together on the wall calmly and patiently to get ourselves to the top, and back to the ground safely.
Till the next multipitch adventure!