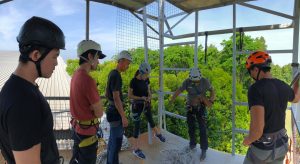 Our Instructors Qualified to Conduct ITC Certification Include:
Mr Derek Yuen (License No.: 8023)
The Singapore National Climbing Standards (SNCS) Climbing Instructor Scheme defines the professional training and competence requirements leading to the SNCS Climbing Instructor certifications and is concerned with good practices and high standards of instruction leading to safe enjoyment of the sport of climbing. It is the only national climbing instructor training scheme in Singapore that is endorsed and recognized by the South East Asia Climbing Federation (SEACF), Singapore Sport Climbing and Mountaineering Federation (SSCMF) and the Singapore Sports Council.
Group Size: 8 pax max
Pre-requisite:
Be a member of a SSCMF affiliated club/association/organisation.
Have a genuine interest in the sport, and the instruction & supervision of groups for sport and/or rock climbing.
Have at least 12 months' experience of sport and/or rock climbing and meet the necessary pre-requisite qualifications.
– Need to have SNCS Sport Climbing Level 3 certification
– At least 18 years of age at the date of registration.
– Have valid first aid certificate
For more info, please refer to this website.
If you are interested in participating in one of the above courses, do take a look at our upcoming scheduled courses. If you do not see a course available that you are looking for, feel free to contact us at info@rockerfellasadventure.com or through our contact page.