This may come a bit late, but here's a guest post from one of our very satisfied RockerFellas Trip participants to Yang Shuo, China, earlier this year! Thanks so much to George Johnson for such a detailed review and for the photos provided!
Those interested in heading to Yang Shuo with RockerFellas for some climbing action, do keep a look out for our 2019 activities! 😉
—————————————————————-
Excited-nervous was definitely how I felt as I was waiting for the others to arrive at Changi. Not only for the world class climbing we were expecting in Yang Shuo but for visiting China for the first time, my ability to speak English was next to useless there. I would be relying on those within the group who could speak Mandarin to help with everything – but mainly ordering food! Fortunately around half in the group could speak Mandarin so this wasn't a problem. Derek, organising the trip as Rockerfellas, was one of those Mandarin speakers so we stuck close to him, especially coming up to meal times.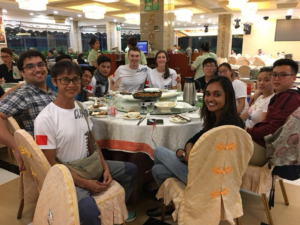 After our early start at Changi we could relax on the flight to Guangzhou before the eye opening experience of crossing the city using the metro system to get the bullet train station. I was particularly surprised to see two ladies pushing a large box of durians onto our carriage, we felt far away from Singapore! Once at the train station we had some local cuisine…well, KFC and following a brief period of separation from the group in what turned out to be a very large station we all just about managed to get on the correct train to Yang Shuo.
Derek had managed to get us seats in the first class section so we sped into the middle of China at 250km/hr sitting in very comfy seats.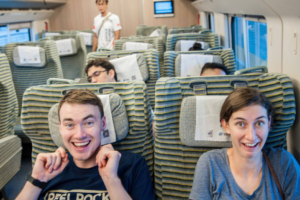 Having watched the limestone karsts of the Guillin region getting closer and closer I was surprised to alight the train at what felt like half way up one. All the same the view was breath-taking, towers of limestone stretching into the distance and lush green vegetation sprouting from the tops and sides of the karsts like sauce poured on ice-cream. Perhaps more exciting than the thought of ice-cream was that in the morning we would be climbing on these dragons teeth.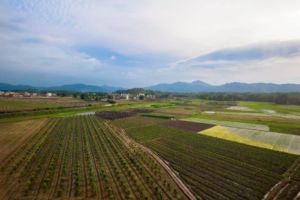 A quick bus ride brought us to our hotel right in the centre of Yang Shuo town and we headed out to find food. Yang Shuo is very popular with Chinese tourists and so we spent a while walking round soaking in the sights, sounds and smells (freshly made ginger candy being a favourite smell!) at West Street.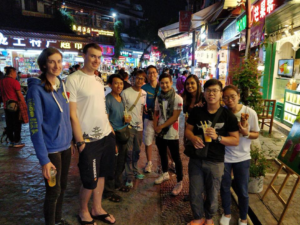 Up early the next morning we had breakfast noodles nearby and headed off to Wine Bottle Crag with our guide Jason. Here our group had a great introduction to the climbing available in Yang Shuo, and also a chance to adjust ourselves to the grading system used here, it's the same as sport climbing grades elsewhere but everything feels about 1-2 grades harder!
Some did multi-pitch while the rest of us busied ourselves with some nice single pitch. We were lucky with the weather, i.e. no rain and temperatures around 25°C so we made the most of the day by moving to Twin Gate in the afternoon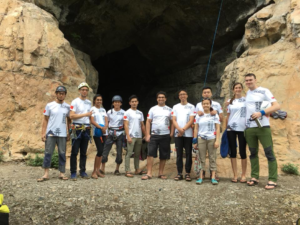 Here Derek showed us some style by ticking off a hard route traversing the lip of a cave and exiting through the roof to finish up a vertical wall. I thought I would take it easy since it was the first day and found myself struggling up the most back-and-forth grade 5 route in China.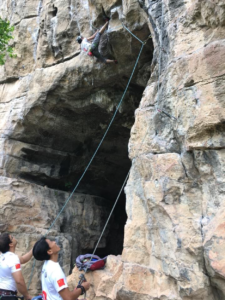 After having seen my desperate wriggle to the top there were no volunteers who wanted to repeat my route… That night we found the bar in Yang Shuo that is also a boulder wall, kudos to those who still had the energy for a few problems in between sips of the local brew.
Next day we climbed all day at The Egg which is a free standing karst peppered with routes on all sides. Some great climbs from all in the group including some multi-pitches. I took the chance to practice some of the SNCS Level 3 skills by building a hanging belay for Nick on one route and also rigging for abseil from the top of a route that finished in a cave on one side of The Egg – great views out over the valley and paddy fields to be had while belaying up Nick and Flo as seconds.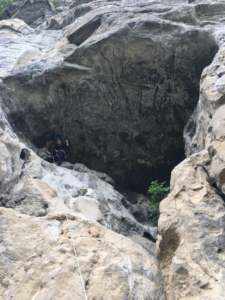 On our way back to Yang Shuo we stopped off to hike up to Moon Hill, incredible views of this natural arch in the side of a karsts reward those who make it to the top. Unfortunately climbing is now banned here but some decent drone footage was taken.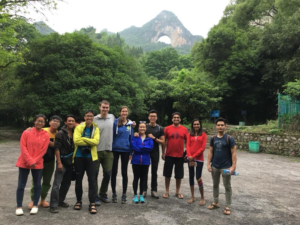 The following day was supposed to be a rest day however it turned out to be anything but. In the morning we all hired bicycles and took our lives in our hands negotiating the Yang Shuo traffic out to the cycle path by the river. Once there Jason led us on a fantastic route out to a nearby village, mostly off road with occasional muddy bits. It was great fun and the perfect way to explore the rural side of Yang Shuo.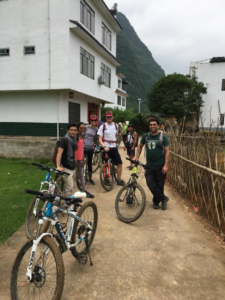 Gobsmacking views down valleys were plentiful. Lunch was another 'Derek special' whereby he would order 12 dishes for the group and each would be as good as the last. Beer fish is a local specialty and quite rightly featured in nearly every one of our meals, it's fantastic! Following lunch a few of us wanted to hike to the top of a nearby karst, so we did! Perhaps not quite as easy as it could have been if we hasn't just had a huge lunch but the scene that awaited us on top was worth every step. Panoramic views over Yang Shuo town and up the nearby valleys were gorgeous.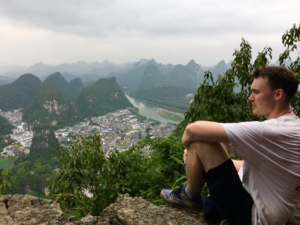 Our next climbing day was at Swiss Cheese crag, I opted to stay at hotel as I wasn't feeling 100% and I was pretty gutted to have missed it from looking at the drone footage of Derek, Lisa and Nick stood atop a 2m wide standalone limestone tower.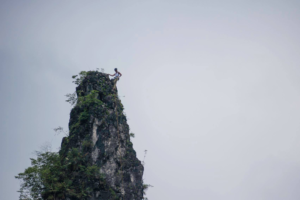 That night the group opted for a more relaxed dinner and so pizzas, beers and rice wine were brought back to the hotel balcony and enjoyed with the live music from the numerous karaoke bars near the hotel.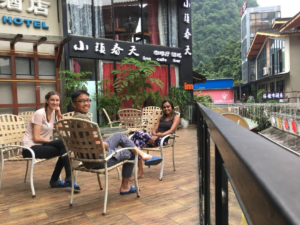 Others were also not quite 100% next morning but there was some speculation as to whether this was to do with the rice wine consumed. Nonetheless there was a full turn out for what was to be our last day climbing. Jason took us to Little Frog Crag and after some negotiations with the locals we were set up to climb. No holding back on our last day and some of the group ticked off some great climbs. Unfortunately rain started to fall and make some of the routes somewhat slippery, this also has a side effect of turning the base of the crag into a mudbath and it was akin to a boulder problem just trying to get back down to the minibuses after climbing.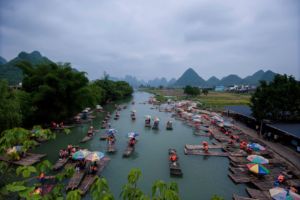 Our last morning in Yang Shuo was spent on bamboo rafts rafting down the river, it was very fitting way to end our trip, serenely drifting down the river hearing the raindrops splashing on the water around us (fortunately we weren't climbing as it rained quite a lot!) and looking out at the mist enveloping the karsts that had been our playground for the last week.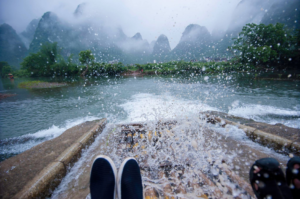 That afternoon we took the train back to Guangzhou, not before ending out time in Yang Shuo with a bang – literally, firecrackers aplenty in the station carpark!
We stayed in a hotel near the airport and had the best fish hotpot ever at the most unassuming restaurant nearby. Next day our flight back to Singapore went smoothly and we spent the time thinking back over the memories of the week.
Thanks to Derek for organising, guiding and finding the best food, and also thanks to all the other attendees for making it such fun!
Travel blog written by George Johnson